HEB Catalina Promotion~
Spend $20+ on Coca Cola, Triscuit, Wheat Thins, Nilla Wafers, and Ritz products and get back a $5 off Coupon/Catalina between 12/2-12/15.
The $5 Coupon is redeemable on dates 12/16-12/29 on a $25+ purchase on anything except liquour and cigarettes.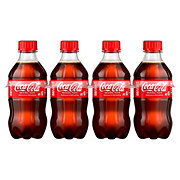 Buy (6) Coca-Cola 6pk 500mL or 8pk 12oz. bottles 3 for $11
Total $22
Pay $19 and get back a $5 Coupon/Catalina at checkout for future use.
That's a net of $14 for all or $.29ea. (if you get the 8 packs)